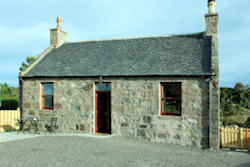 This is where I'm residing weekdays as I oscillate between Edinburgh and Aberdeen for my day-job. It's a fine bolt-hole near Banchory in Aberdeenshire and it will be the site of a few bits of new-guitar-tunes-composing but I am mostly these days scaring the sheep and bulls in the fields close by with my hollering which passes for rehearsing.
I'm spending my time doing all of that but I also find an hour or two here and there for transferring pages of stuff I've written down into my favourite notation program. This stuff seems endless. It needs to be gone through and edited and put to some good use or otherwise trashed. It's a lot of work. Never mind – I'm told I'll have plenty of time. Apparently when the snow comes this winter I could be marooned in there for days.
A view from the back door. In the distance on the right you can see the "slug road" to Stonehaven.